Audio Masterworks Audio / Video Post Production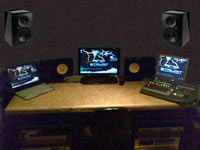 Derbyshire / Cheshire border..


(Update in Progress: 26/1/2021!) Featuring THX Certified PM3 Mackie HR842 mk2 / Mackie HR642 mk2 powered monitors / Tannoy Dialogue monitor in a 5.1 surround configuration. Industry standard Yamaha NS10 Near-Field monitors. Sennheiser HD 600 headphones. Alesis, RME, Focusrite, Midas, Mackie, Fostex and Yamaha converters. RME, Focusrite (Class A), Mackie (Onyx), Walsterę (Descrete) and Yamaha Preamps. Microphones by AKG - Neumann - Audio-Technica - DPA - Sennheiser - Shure - Beyer - Electro-Voice - Rode - Trantec - Walsterę, Sennheiser wireless instrument / lav system, Sennheiser in ear monitor system, Custom built rack mounted Core I7 PC / Mac Pro / 24" iMac, 2 x iPad Pros / custom TouchOSC remote, Samsung 49" QLED Curved HDR monitor / 2 x 22" IIyama TFTs. In House File Server Network / Web Server. Beyer DT 100 Headphones. (Lots Overdubs). Software: Davinci Resolve Studio, Cubase 10.5 / Pro Tools, Stereo mastering software is Adobe Audition and Wavelab. Mackie Universal Control Pro with 2 x Extenders = 24 + master, motorised faders, Loads of vintage outboard gear (Can be patched into the digital domain) Drawmer compressor, Drawmer gates, Aphex Aural Exiter, Yamaha SPX90 / Rev 7 ETC.. SMTP reader (Sync to tape ETC) Alesis Adat (Transfers). DBX / Yamaha Compressors.

Audio Location Recording: RME Fireface UFX+ 96 channel Recording Rig, Midas M32 Live Console with 32 channel digital stage box, Midas Core 32 channel 1u rack mount processor.

Video Location Recording: 2 x BlackMagic 4K Cinema Cameras with variable ND filters, Spherical and anamorphic lens sets, Custom built shoulder rigs with 1200 nit monitors, 4 x 4k GoPro's, DJI Mavic 2 Pro Drone with DJI Goggles, 2 x DJI Gimbals, 12 Foot Custom built Jib, 2 x Tentacle Sync BlueTooth SMPTE Sets, Zoom 6 Channel Synced Audio Recorder...